UX Case Study: Sharing music from streaming platform to Instagram Stories
Why the scope of this case study
I curate music
I decided ahead of time that I want to share curated music on Instagram stories
Most of my music consumption is via streaming platforms (Youtube, Bandcamp, Soundcloud, Mixcloud, Spotify, Tidal)
Exploring the intersection between software and music
In a nutshell, it's self indulgent research, I'm trying to make life easier for myself, reduce the amount of friction I face when I want to share music, also have the end result in a manner that's easily consumable - that's why I also care about how the end result looks.
Looking at how software interacts with the world around it
What form/bodies of music do I share?
Tidal
Was the fastest feeling
Has a custom UI flow for sharing, and it feels most optimised for sharing to Instagram Stories
End result is purely visual, no clickable link to take you straight to the sound, which is a problem for the end user. now I must manually open my music app and search for the song - not good enough.
when I refer to "the user" in these videos, I mean the end consumer, the person I'm curating music for
Spotify
disclaimer: I worry that my spotify comparisons might not be an accurate representation of the app's UX, my Spotify library is massive, and I know that contributes to a UI that feels slower in some instances, like waiting for "liked songs" to load takes a while, as theres over 6500 of them.
A decent custom flow for sharing
Not as fast as Tidal
Dedicated share to instagram story
End result has a "Play on spotify" option
YouTube music
Bandcamp
disclaimer: Bandcamp UX is generally quirky & can feel a little dated. But I still can't help but love it & its flaws. Has a minimalist, "here for the music & not much else" feeling to it.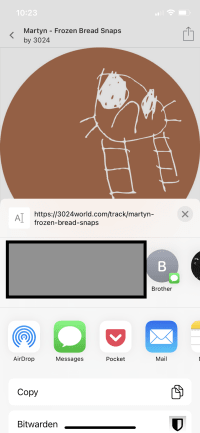 Can't share to instagram stories, as it only shares link text
No visual element to their sharing
Uses default Apple share screen
Soundcloud
Easy to share to IG stories
Feels fast enough
Includes a clickable link on the story
Mixcloud
Visual & audio end result, no clickable link. Becomes sharing just for vibes, because of that